Saturday, November 27, 2010
Tweet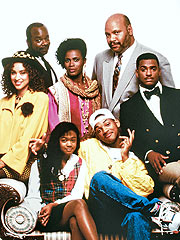 I'm pretty sure this was one of everyone's favorite 90's shows! I stayed glued to the TV when this came on. So it's only right to do a fashion tribute to the wonderful show The Fresh Prince of Bel-Air.
Now don't get freaked out, I know 90's fashion isn't really in style anymore. I will use modern pieces that are inspired by the characters Will, Carlton, Ashley and my favorite, Hilary.
Let's start with Will Smith....
Of course, Will was known for his flashy ensembles: brightly colored jackets, eccentric patterns, and fresh kicks. I remember when he first put on his uniform jacket, and wore it inside out to show off the funky red pattern. Will was a Hip-Hop junkie on- and off-screen, and Hip-Hop is arguably still "alive"
today. I will use his love of the culture as the inspiration for this outfit.
Ashley is the "baby" of the Banks family, until later seasons when little Nicky arrives. Of course, when she was younger, she dressed in florals and pastel prints. However, as she matures, she becomes a rebel and develops her own style. She often wore cropped tops, boots, and skirts.
Everyone's favorite...Carlton Banks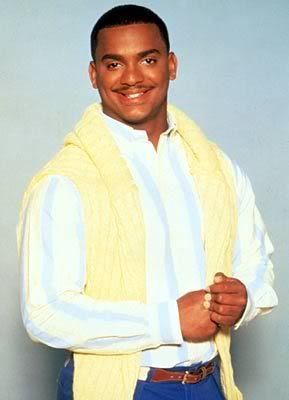 Carlton is the second oldest of the Banks clan. His style is pretty much the stereotypical prep: cardigans, argyle sweaters, loafers, and tucked-in shirts. He is most famous for his off the wall dancing.
Finally, my favorite...Hilary Banks
I absolutely love Hilary Banks! If you've checked out my first Blast from the Past post for
Living Single
, you'll notice that I always love the glamorous characters. Even though Hilary isn't the brightest of the bunch, her style is on point. She is ultra-feminine and a true fashionista who isn't afraid of trends and glamour.
ASOS Strap Detail Ponti Bodycon Dress
, $45
Flutter Sleeve Charmuese Top With Ruffles
, $19
thurston howell's black blazer
, $47
Basic Bodycon Skirt
, $24
Classiques Entier Open Toe Pump
, $65
Amazon.com: GUESS Women's Hondo Peep-Toe Pump: Shoes
, $46
Carlo Fellini Woven Raffia Clutch
, $48
ASOS Quilted Suedette Lock Bag
, $22
Dazzle Jewel Hoop Earrings
, $6.80
Classic bow beret hat Beige
, 40 GBP
Chanel Le Vernis Nail Colour
What do you think of these outfits?