Friday, December 17, 2010
Tweet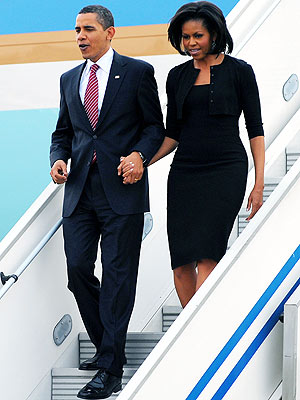 Unlike the gorgeous First Couple, we all can't enjoy the luxury of flying on a private jet. Sigh, we have to deal with TSA harassment, traffic, long lines, lost luggage, and sharing space with sick and contagious people. Instead of dealing with all of this hassle in ripped up sweats, why not put on something casual AND chic? Here are some outfits for your traveling days.
AE Women's Exaggerated Shawl Collar Sweater (Raspberry Bubble)
, $30
High Waisted Seam Front Leggings
, $36
Flurry Moccasins
, $17
Piano Shoulder Tote Bag
, $39
Dockers Men's Comfort Cargo
, $30
Men's Apex Canvas Anorak
, $83
V-neck sweater | Gap
, $40
The Cesaio Lo Sneaker
, $60
This look is perfect for all types of travel: flying, road trips, and bus or train trips. Ladies, stay warm and toasty in this lush shawl collar sweater. A comfortable bottom, like leggings, allows you to breathe and not feel bloated if you have to sit for a while. (I hate sitting in jeans for a long time - I start to feel like Shamu the Whale.) I actually have these gray moccasins, and they are SUPER DUPER comfortable! Fellas, just because you want to be casual, doesn't mean you have to reach for that played-out hoodie. Keep your grown-man style with this anorak, which has front pockets to hold your important gadgets. Comfortable cargos, a sweater, and low-top sneakers will make sure you feel chill while looking hot.
Exist Womens Sweatshirt
, $40
Skinny Knit Pants
, $20
BC Footwear Women's Bicycle Built For Two Flat
, $31
Nicole Lee Croc Purse
, $47
Knitted Newsboy Cab Driver Hat
, $20
Minnetonka Men's Driving Moc Moccasin
, $40
LRG Sweater
, $69
Levi´s 559™ Relaxed Straight Jeans
, $33
If you expect to make a stop before you reach your destination, like a nice lunch in the hotel's restaurant, you probably don't want to be seen at your worst. Ladies, it is possible to dress up a sweatshirt for this situation (gasp!). But please do not use your shapeless, unflattering high school sweatshirt. Try a nice fitted one like this, and it even has a nice detail on the front to add color. Leggings may not be appropriate, so opt for knit pants, which are still more flexible and comfortable than jeans. Flats, a sophisticated tote, and a newsboy cap add a funky edge to the ensemble. Fellas, add a nice, chunky sweater to a pair of relaxed jeans - and voila! You have a comfortable outfit that is still appropriate for a nice lunch. I am a huge fan of moccasins for these occasions, and this pair is still relaxed enough for a drive.


Bliss Fabulous Foaming Face Wash To Go 2 oz
, $9
Bliss - Tried + Blue Travel Kit: Shampoo and Conditioner + Body Lotion
, $25
Bliss High Intensity Hand Cream To Go 1 oz
, $8
Boscia Blotting Linens: Shine Control/Blotting Papers
, $10
Black Amethyst Travel-Size Body Lotion
, $5
Black Amethyst™ Travel-Size Fragrance Mist
, $5
Downy Travel Size Wrinkle Releaser Downy, 3 Oz
No list would be complete without some beauty essentials. I love the feeling I get after I wash my face, so I must carry a face wash in my tote bag on long trips. Hand cream and body lotion are must-haves; my favorite scent is Black Amethyst from Bath and Body Works. And if your hotel doesn't provide an iron, or if you hate ironing, Downy's Wrinkle Releaser does the trick!